ONE SIZE DOESN'T FIT ALL
Tough Mudder is not a one-size-fits-all event. We're a global community that welcomes anyone regardless of age or ability. We welcome those who are transforming their lives or looking for some fun with friends. We believe that cooperation is better than the competition, and overcoming "adversity" together creates incredible bonds and memorable moments.
Our obstacles are world-class, our mud is legendary and the post-event festival cannot be missed. Tough Mudder is a place to belong and we welcome you to the mud with open arms.
Stop scrolling and start striving
Take on something new, stop comparing and start grinding. We've got everything you need to not only crush the course, but have an unforgettable time doing so.
Tough Mudder Training
Bye Comfort Zone
You made it this far, so now's not the time to create any more excuses. Join over 6 million that have made the leap.
Mudder Myths
Self Doubt Is Out
You're ready. The other side of the limits you have set yourself are waiting. You in?
Events Are Waiting
How it works:
Choose Your Challenge
Choose an event that suits your journey. From 5K, 10-miles or 24-hours we have events to challenge everyone.
Find Your Event
Pick the date and location that is right for you and sign up through the event page of your choice.
Start Your Prep
Put in the work. Start training, and building towards your event. Check out our training plans for extra motivation.
EVENTS FOR ALL
Every Tough Mudder event is built on the foundation of teamwork and features world class obstacles. From 5K to running all night – we have an event for you.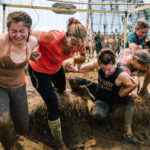 Tough Mudder Classic
The original. 10 Miles of mud-soaked mayhem, featuring 25 of the craziest obstacles around.
Find A Classic
Tough Mudder 5K
A teamwork-focused, obstacle-crammed 5K course ready to test you and your friends.
Find A 5K
Group Ticket Packages
With one of our group packages you will experience Tough Mudder like a VIP – from personalized services to custom amenities, your team is guaranteed to escape the ordinary.
Build A Team