Individual Participant
Saturday, November 12, 2022
---
PRICES RISE ON Dec 22nd
Tier 2
Prices rise 12/22/21
Tier 3
Prices rise 01/31/22
Tier 4
Prices rise 03/31/22
Tier 5
Prices rise 05/31/22
Tier 6
Prices rise 07/29/22
Tier 7
Prices rise 11/11/22
4-Person Team Relay
Saturday, November 12, 2022
---
PRICES RISE ON Dec 22nd
Tier 2
Prices rise 12/22/21
Tier 3
Prices rise 01/31/22
Tier 4
Prices rise 03/31/22
Tier 5
Prices rise 05/31/22
Tier 6
Prices rise 07/27/22
Tier 7
Prices rise 11/11/22
PIT CREW / SPECTATOR
Saturday, November 12, 2022
WORLD'S T
OUGHEST MUDDER
Finisher Headband
Just like every Tough Mudder event, you earn the right to rep a sweet finisher Headband.
Event Bib
Every athlete receives participant bib to rock during (and after) the event. A true memento.
Medals
Cross the finish line as a category place getter and be rewarded with 2022 medals unique to World's Toughest Mudder.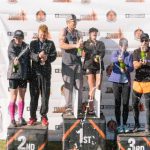 Awards
Whether it's a podium finish or the best in your age-group, prizes are on the line.
Action Photos
Use our proprietary facial recognition to find photos of yourself conquering the course. Post to Instagram. Bask in the glory.